Supporting women's sport with pride
As South Australians, at RAA we know football is part of our State's cultural fabric. It's just one of the reasons why we've partnered with the Adelaide Crows' AFLW team since their first historic season in 2017.
Whether it's a walk across the footbridge to the picturesque Adelaide Oval, or an arctic early morning kicking the dew off a country ground, many South Australian weekends revolve around Aussie Rules.
But another reason for our support of the Crows is the importance of women's sport.
When the AFLW launched there were 983 community women's teams Australia-wide. That number has since skyrocketed to 2500, showing what a difference the AFLW phenomenon has made to female footy players of all ages.
Women competing at the top level – inspiring the next generation of players to do the same – has brought girls to the game in swathes. Today there are more than 600,000 young women playing the game in Australia, up from 380,000, and the League recently celebrated the one millionth supporter walking through the gates at an AFLW match.
It's not just women who have been represented by the AFLW's rise. The league has long been a leader in the celebration of diversity and inclusion, in particular for the LGBTIQA+ community. Many AFLW stars – including Adelaide's Erin Phillips and Carlton's Darcy Vescio – are open about their same-sex relationships. And following several Pride games between different clubs in previous seasons, in 2021 the league pioneered the concept of a dedicated Pride Round to celebrate inclusivity.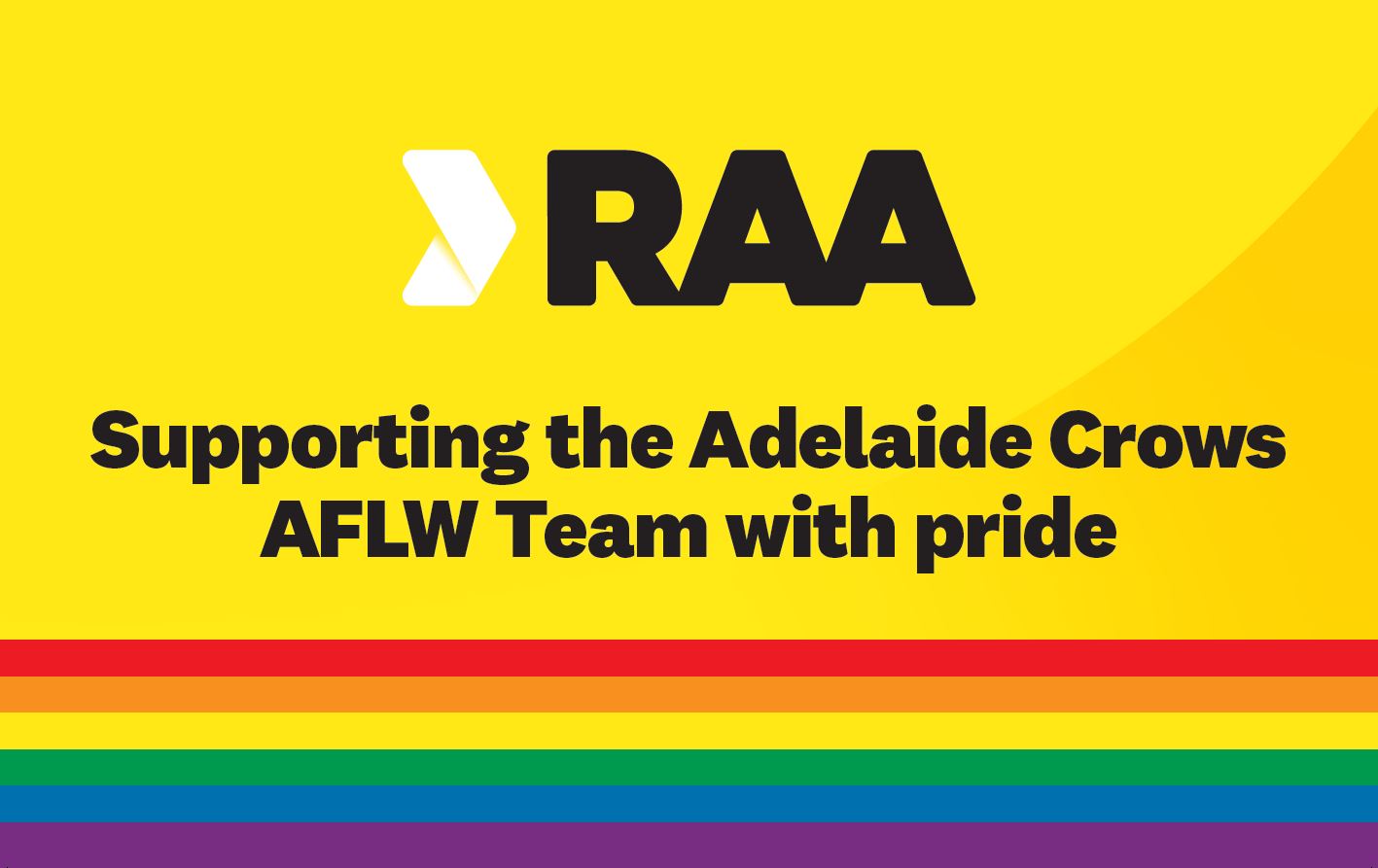 RAA will show its support for the Crows' Pride game via the run-through banner for Saturday's fixture against Melbourne. Both sides will come together to break the banner as one at Norwood Oval before the match.
Our General Manager Community & Corporate Affairs, Emily Perry, said the banner, pictured above, was designed by RAA and signifies the organisation's ongoing commitment to celebrating diversity and inclusion – on and off the field.
"The AFLW has not only helped bring the game of football to thousands of South Australian women and girls, but has also been a community leader on a range of issues," Ms Perry said.
"RAA is excited to show its support of Pride round and the Crows this weekend, and we encourage as many South Australians as possible to head along to the game.
"We also look forward to supporting Port Adelaide's AFLW team when they enter the competition next season. But for now, go Crows!"